General Dentist in San Jose, CA
What are Dental Implants?

Dental implants are prosthetic devices that are specially designed to provide a stable foundation for replacement teeth in the patient's mouth. Unlike dentures or bridges that require the patient's regular teeth to be fixed in position, the dental implants do not require other teeth to be held in place. These implants look and feel like natural teeth and they help to preserve the patient's facial shape. They consist of titanium screws that are surgically positioned in the patient's jawbone, which is used as a base for the artificial teeth. Since the implants are surgically fixed in the jawbone, they do not slip or shift when the patient performs various activities like speaking or eating. This makes the implants a better choice for many patients.
What is the Procedure for Dental Implants?

In order to undergo the implant procedure, the patient must first undertake a dental or radiographic examination. The dentist also studies the patient's dental history. During this process, Dr. Andirious will address any concerns or issues that the patient might have regarding the procedure. During the procedure, the dentist surgically places metal anchors into the patient's jaw bone. Small posts are then attached to these anchors and these posts act as anchors for the artificial teeth. The artificial teeth are constructed by taking impressions of the patient's actual teeth. This procedure is spread over a period of time in order to allow the implants to fuse with the jawbone. The patient does not experience any discomfort or disruption in their lives as a result of this procedure.
What are the Benefits of Dental Implants?

Dental implants are very useful to patients and have a wide range of benefits:
They provide a stable base for the patient's artificial teeth. They do not slip, shift, or move out of position while the patient is eating or speaking.
The implants look, feel, and function like the patient's natural teeth. They are also cleaned in the same way the patient's regular teeth are cleaned.
Implants do not require neighboring teeth for support, which helps to preserve the patient's tooth structure.
With the help of the dental implants, the patient's remaining teeth do not shift out of position.
Implants help to preserve the patient's facial structure and they are a useful cosmetic and restorative procedure.
Since dental implants are fused to the patient's jawbone, they are a comfortable alternative to dentures.
Dental implants offer stable, secure, and effective artificial replacements to those that require it. By undergoing an implant procedure, you are giving yourself a chance at having a better and healthier smile.
Ultratooth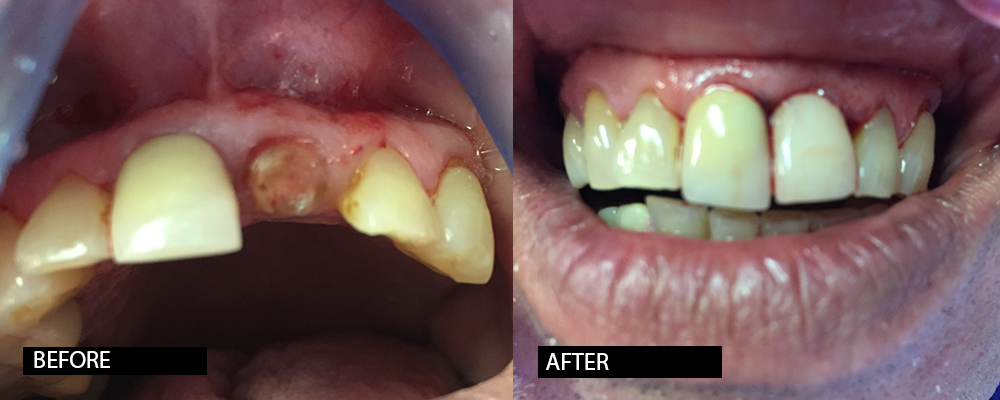 Ultratooth the Immediate Dental Implant Is the only FDA Approved Immediate Dental Implant On the  Market today.
Most patient's now can qualify for an immediate dental implant procedure. This procedure allows patients to leave the dental office with a new smile after one appointment. 
The Benefits of The Immediate Dental Implants "Ultratooth" Are: 
Preserving existing natural structures like alveolar bone and protecting the areas where teeth are missing
Instant and functional results, patients leave the office with restored implants. Temporary crowns, not a flipper or a partial denture or any other removable appliance
Increased confidence in their smile and appearance
Fewer office visits
Here is a Comparison between a Traditional implant and an Ultratooth Immediate implant:
Immediate Implants "Ultratooth":
Immediate dental implants provide you with a complete replacement of your tooth in only one visit! The exciting tooth will be removed by the dentist, the titanium implant, the Ultrtooth, will be placed and a temporary crown will be fabricated at the same appointment. The temporary crown is in full function and aesthetically pleasing. There will be no need for unsightly removable appliances or any gaps in your smile. Patients will need to come back for the final delivery of their porcelain crowns in a few weeks after implant placement. 
Traditional Implants: 
The process is separated into multiple visits. Tooth removal and socket graft. Wait  4-6  months for implant placement. Titanium screw or implant placement appointment with healing abutment. Then wait for the osseointegration process ( for implant and bone fusion)  for 4-6 months. A patient comes in 4-6 months for impression for crowns onto the implant. Meantime patient either has been wearing a flipper or a partial denture or nothing at all for almost 12 months. 

Dr. Andirious in San Jose is a general dentist who provides the best immediate dental implants. To discuss your dental implant treatment options, please call our San Jose office at 408-997-9027.